ZhuXu is a private Chinese art club, which aims at disseminating Chinese traditional culture. It gives bigger stage to artists who specialize in traditional Chinese art and participates in the inheritance of China's culture.
In this class, we learn how to make a rooster shaped sachet and some basic knowledge of Chinese herbal medicine. Inside the sachet, we fill in four kinds of Chinese herbal medicine. They are perilla, acumen platycladi, cortex acanthopanacis and guaiac. This prescription helps to warm your spleen and stomach and reinforce Qi. It also helps to relieve dysmenorrhea. This class is suitable for any skill level.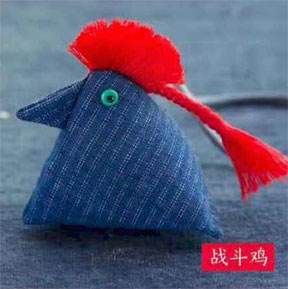 Date:
Friday, December 8
Time:
1:45pm Registration, 2pm-4:30pm
Venue:
ZhuXu
101-102 No. 1635 Huashan Rd.
(right side of Exit 7 Jiaotong University Metro Station, enter through the carpark gate)
Cost:
RMB 300
Please email events@seashanghai.org by December 4, under subject type "Cockerel Shaped Sachet" and include your membership number, mobile phone number, and WeChat ID. SEA cancellation policy applies after December 4. The event costs need to be paid in cash only. SEA coordinator is Jennifer Schmidt, mobile: 156-9217-9207.